Cambridge Public School
offers an academic , sporting, co-curricular  and  personality development  program  that affords students every opportunity to grow in knowledge, self –confidence, Skill and understanding.
       Smart  Classroom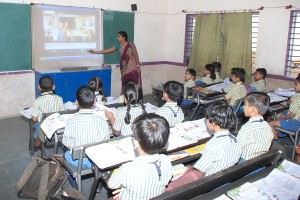 The smart classrooms equipped with computer and audio-visual equipments allow the teacher to teach using a wide variety of media. These include DVD and VHS playback, PowerPoint presentations and more all displayed through a data projector. The interactive learning software provides teacher with the essential tools to manage classrooms, assess students and encourage learning. The students are assessed through SAS and individual attention is given to each child. The classrooms are well ventilated with comfortable furniture. The strength of the classroom is kept at a manageable level.
      Computer Lab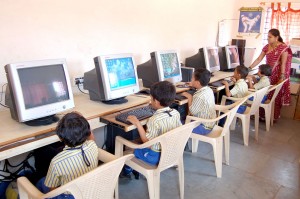 Computer education is an integral part of the curriculum at Cambridge public Schoo,l Ranebennur.  The Computer Lab is well equipped with modern systems and latest software . The school offers Computer Education from class 1
st
onwards.  The highly qualified teachers impart the knowledge of computers and fully equip the students for the challenges of the computer age. A dedicated broadband Internet connection in the lab provides Internet access to source websites for the educational materials.
     The Science Lab
The Science Lab at Cambridge Public School provides an open environment for the students to experiment and do research work. Under the professional guidance and the assistance given by our science teachers.  Students are also encouraged to exhibit their innovative powers by developing samples and models.  Our science lab is highly sophisticated and fully equipped to meet the curriculum requirements for Physics, Chemistry and Biology.
     Library
The Library is the main source center for the students and the faculty at the Cambridge Public School.  The Library has a vast collection of Books-Encyclopedia, Textbooks, Fiction, Fairy Tales, Biographies, Resource Books, Dictionaries, Question Banks and Periodicals.
                                                           SCHOOL BUS SERVICES
Safety- First, Last and Always on our Minds....                                                                                Our number one goal is to provide the safer transportation  possible for Students.
                                                 There is no safer Way to transport students to school than  on a school bus and Cambridge public school makes safety priority.
                                                Our primary goal is to provide the safest transportation possible for students who ride our buses. We don't take that responsibility  lightly.
      NOTHING IS MORE IMPORTANT THAN THE SAFETY OF THE STUDENT